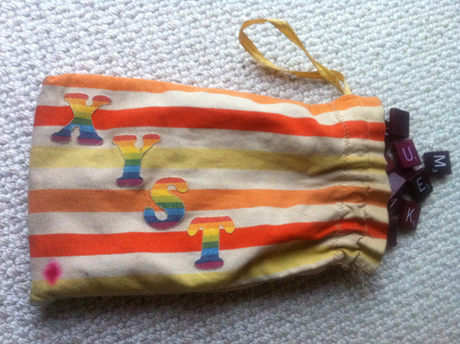 About 30 years ago, for Christmas, my mom made me a bag. I still have it. It lives in a big flat box, underneath a snazzy, rotating Scrabble board. Its job is to contain the 100 tiles. If I were allowed to keep only one thing to remind me of my mom, it wouldn't be a photograph, or anything she wrote. It'd be this bag:
I played a lot of Scrabble as a kid, and then I didn't play at all during my late teens. When I moved out of the homestead at age 20, I made a friend named Ken and we both fell in love with Scrabble all over again together. We played and played a lot of Scrabble for several years. We even got good at it. Mom came to know Ken. Then one winter she blessed our obsession with a bag, and a chosen word.
In case you forgot, a xyst (sounds like zist) is a covered portico used by athletes in ancient Greece and Rome during bad weather.
So why would my mom choose that word to put on this bag? 1) Because it has premium letters in it. 2) Because it is short. 3) And because it's way cool!
I get swept away by gratitude waves now and then, and they bunch up in December. Right now I'm feeling grateful that somehow, in the great shuffle-up-and-deal called life, I was dealt a mom who made a xyst bag.
Fortunately, I was able to get that picture taken before the bag was consumed by a black monster…