On This Page:
What is "The Eightfold Path to Poker Enlightenment?"
The Eightfold Path to Poker Enlightenment (EPTPE) is a poker video series I made with Wayne Lively and Rob Cole. It's about making your A-game better, and playing your A-game more often.
In January of 2010, EPTPE won three awards at the first-ever awards ceremony at DeucesCracked.com. It won for best non-strategy series, for best episode in a series (Episode 8), and it won the award for best overall series.
Here's blog post that tells more about it: The Eightfold Path to Poker Enlightenment
To see EPTPE you'll need to subscribe to DeucesCracked.
Links To Samples Of The Videos:
At DeucesCracked, each videos sits directly above the forum thread that is about the video. Non-members can watch the first few minutes of each episode for free, and read what viewers have to say by scrolling down. Here are direct links to each episode:
The Making of EPTPE
(This is an excerpt from the acknowledgements section of Painless Poker)
Wayne Lively pulled up to the curb and into my life in a limousine at Joe Tall's wedding in Las Vegas in June 2007. Wayne had a big frame, a bold personality, and a brutal story about losing everything in hurricane Charley in 2004. After that he moved to Vegas, landed a job driving limos, and found poker. And by 2007, he was a devotee with professional aspirations.
         After the wedding, during the picture-taking, Wayne told me about his radio show.
"It's called Bibliotech," he said. "I interview authors."
"Hey! I'm about to become one of those!" I said.
"Do you think maybe that's why I brought it up?"
It turned out Wayne knew me by reputation as an article writer and old-guard poster at twoplustwo. And he knew about my book because Joe had told him about it. Wayne and I sat in the limo and talked about Elements, and I enthusiastically accepted his invitation to come on his show and talk about it some more.
We did the show live, sitting next to each other on stools in a radio studio, talking into big microphones on long booms. It was my first interview—my first taste of what it felt like to be an actual author, and it felt great, because Wayne was great. We had so much fun that we did a second interview after Elements came out. Then we had lunch.
"I have an idea," Wayne said. "Let's you and I do our own radio show. You would coach me, on the air."
Usually when someone suggests an idea to me, my first thoughts are about why it won't work. Kay calls it my "just say no" reflex. Not this time. See, I knew some things about Wayne's poker mind. I knew it was infected with misconceptions and bad ideas. And I knew he was lighthearted. And he's got that awesome radio voice.
"Can you joke about your weaknesses?" I said.
"Try me," he said.
"Does it get to you when a bad player gives dumb advice at the table while sounding like a self-proclaimed Messiah?"
"Those types don't bother me at all," Wayne said, "after I strangle them to death."
"This could work," I said.
I talked to Jay about the DC way. "We develop content like a TV network," he said. "Each video series runs for a season, and each season is eight weeks long, so each series contains eight episodes."
For years I'd been learning about a Buddhist practice called The Eightfold Path. I heard Jay's words and I put eight and eight together and came up with The Eightfold Path to Poker Enlightenment as a possible title for a DeucesCracked video series.
What an awesome title! All my blah blah will fit perfectly under that umbrella. And I could use the eight headings of the actual Eightfold Path as episode titles, and…
 Not so fast, genius. Did you forget about your B-word anxieties? If you put "The Eightfold Path" in a title, any title, it will be overtly buddhistic, and you're always telling yourself that you don't want to be confined to or defined by whatever preconceptions the B-word conjures in people's minds.
 True. But a title like that would free me up to put it all out there, the theory that explains the cause of pain, the training that does something about it, and even the ancient wisdom teachings on compassion. This series would include tons of poker material that is substantial and diverse, but ultimately examined through the lens of happiness EV, not just dollar EV.
Hmm. I'll have to think about that.
And the acronym would be EPTPE, which looks cool.
Sold.
And that's when I "came out" as a meditation coach.
I told Wayne about my ideas for the series. He loved them all. So we put an outline together and started recording. The result was a hundred conversations on a hundred topics, threaded together with piano music played by me.
The Music From EPTPE:
Some of these tracks can be listened to in the customary way one listens to music. The lengths of those tracks is listed in bolded, red numbers.
Other tracks finish very soon after they begin. They stir up questions quickly, for example:
Living In The Past meets Mission Impossible
The basic soundtrack for all of the videos consisted of Wayne and I talking for a few minutes on a topic, then we'd end that topic, and we'd start on another topic, and so on. The idea behind the music was to insert bits of piano playing between the topic changes, just to break things up and give the episodes some phrasing. I would record the music at home, which is something I've done a lot of, but not since the days of analog tape. So I was stoked to learn how to engineer digitally.
Wayne and I had already finished the vocals (our spoken conversations) for the first three episodes before the first piano recording session. I recorded for two days and I ended up with about two hours of possibly usable stuff. Sometimes I would stop and start a lot and make little "inserts" that were 5 to 15 seconds long. Other times I'd just play. I thought I might use some of it as background music here and there.
Then I played mad scientist (using Audacity), inserting bits of piano between the conversations, putting some of the long piano passages behind the talking during the really important parts, and one day, the audio for the first three episodes was finished.
When Wayne and I recorded the next few episodes, the conversations started getting shorter, which meant more inserts-per-episode would be needed. I could foresee that with 5 episodes to go, I'd need about 90 more inserts. Plus I'd need about ten long musical passages as backgrounds and episode enders.
Needing such an enormous amount of material, I decided to borrow from the classics, starting with "Chopsticks," and "Heart and Soul." I used much actual classical music in the middle episodes, followed by mostly classic rock songs in the later episodes.
Lots of times I learned exactly as much of a song as I was planning to play. It felt a little naughty to record only 10 or 20 seconds of a song, knowing it would cause lovers of the song to long for the next part. For example, taste this slice from She's Like a Rainbow by The Rolling Stones. I've had two complaints about that one. "You asshole!" they said. "How can you leave me hanging like that?"
This is what my recording setup up looked like: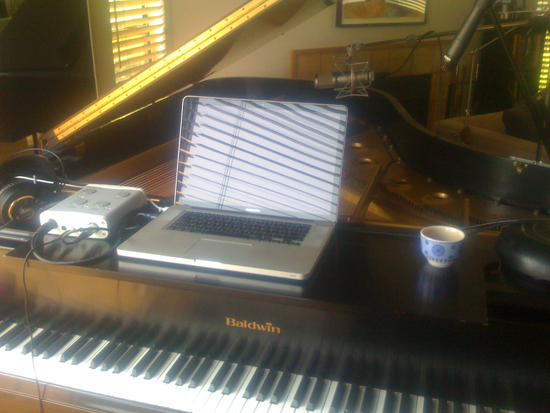 I'd be recording something, and I'd think of some other song to record a piece of, usually a song I hadn't played and hadn't heard in a while. I'd go right to YouTube and find it and figure it out and record it. Sometimes there were delightful detours, of discovery, and distant years revisited.
And then there was the actual recording. I used to have a recording studio in my living room in the 80s. Speakers hung from a ceiling that was covered with purple apple dividers for sound baffling. A permanent drum set, right where a TV would otherwise go. A console table for the tape decks, mixing board, and outboard effects, that was built by me and my bass-player roommate. (<—Every musician should have one!) And I've done tons of recording in real studios, with real engineers. I'd never done any digitial engineering, until this project. In a word: a w e s o m e. I can't help but wonder how great Beethoven might have been if he'd had a mac and a mic.
I have enjoyed quite a google fest putting this web page together, looking up the names of composers for the listing. Did you know that Chopsticks was written in 1877 by a Brit named Euphemia Allen?
Then of course I had to go look up "Euphemia" to see if it was a guy's name or a girl's.
(Answer: Girl's. And there's a Saint Euphemia, an early martyr, burned at the stake.)
Classical
Rock
Miscellaneous
Original Songs and Renderings
Here are two more songs from my CD that have nothing to do with EPTPE:
What People Are Saying About EPTPE
POST 1 from DeucesCracked forums:
My poker game is still struggling, but the Eight Fold Path has made me a far happier, positive and motivated person in general. This series is just incredible.

I love the quote about someone seeing Tommy for poker coaching, which took several shots off their golf game. This happened to me after listening to The Eight Fold Path! I went out on Sunday and hit some shots I didn't even know I had in me. My putter was running ridiculously hot, I got up & down on five consecutive holes – which is better than good for me. I put it all down to mindfulness, my new favorite thing. 'mindful breathing, mindful posture' is so crucial to good golf.

I've been using 'right-speech' at work with awesome results. It's lifted the whole mood in my office.

Thanks Tommy and Wayne and DC!

— Swampy
POST 2:
Wow I could have used the blame portion on Friday.

A lady at work went to the VP and blamed me for some big mistake (someone is probably going to get fired over it) that she made. I heard about it and it really pissed me off. I almost walked into her office and demanded she go correct what she said to the VP and let him know it wasnt my fault. Some people I worked with talked me out of doing that because they could tell how pissed I was and it probably was just going to end up with her and I yelling at each other. So I didnt go do that, actually I went out side and counted my breathing which really does help.

I found out a couple hours later that the VP knew it was her fault and basically put her in her place for making the mistake as well as trying to blame it on me, so there was really nothing for me to worry about.

This really is the best video series I have ever seen on any poker site. My girlfriend doesnt play poker and doesnt want to learn but she still loves this series.

— Jasonfish11
POST 3:
Wow, thank you so much for this series. I'm going through quite tough time in my life and this series gave me a new kind of hope and energy, I really think I can become a truly happy person.

— JS7
POST 4:
This is the pinnacle of human achievement, no joke.

Fantastic, fantastic series. The subscription pays for it self on this content alone. You two have steered me back on track as I was very prone to tilt before but I'm consciously noticing lack of tilt when I get 2 outered for the 3rd time in a row.

Now when that happens I say "Money would have gone in all the same if the positions were switched therefore this is an EV=0 spot" and I banish it from my mind.

Like someone else who has posted feedback my gf who doesn't play poker has watched the first episode and loved it, this is like general life self-improvement series in the sense that ANYONE can benefit from it.

Tommy & Wayne are the nuts.

— TerrorBlade
POST 5:
I've never had so much changes in my game like I have right now.

It's not really how I do specific betting or raising actions within specific hands but how I react to happenings on the table and how I react to results of sessions. One step farther is how I react to swings and stuff.

I inserted pauses to my game and it helped a lot. And I'm so more relaxed. It's not only that I'm better within the game (actually I've got some losses right today) but it's all about that I know when I've done bad decisions or good decisions.

To sum up: Your series make me feel in harmony while, before and after playing poker. Before your series, I was a very aggressive and unpleasant player. That's changed and hopefully, it will keep this way.

So, thank you at this point for your great great great series! 🙂 You two are cool guys.

— Eisflamme
An excerpt from an email
I'm a big fan of the Eightfold Path series you did for DC but now I find that I must deal with the suffering caused by that series being over. Perhaps next time if you don't want people to get attached, you shouldn't make it so good. 🙂

— Anthony
A very enthusiastic blog post by btimm
http://btimmpoker.wordpress.com/2009/09/29/aha/
Original EPTPE Drawings
by Wendelin Montciel
Other Images From EPTPE
We used dozens of images from istockphoto and flickr. And we used some from closer to home. Below are five of those.
I searched the web looking for a really good picture of a path to use in the video series. I couldn't find one that said "final answer." Then one day, on my walk, it occured to me that the thing I am walking on is in fact a path, and a particularly fine path at that. If only I had a camera. My phone has a camera. I will take my phone for a walk, and…
This is a picture of an oak tree in my neighborhood…
Max is making sure I have everything plugged in right…
Wayne and I recording in my bedroom…
Joe Tall took this one…
This is Poga, a friend of the series…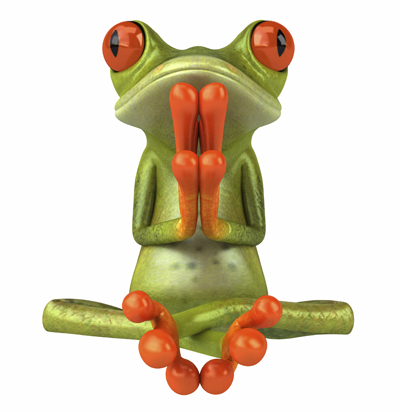 This is Emma doing a cat pose on my cat pose. Not a DeucesCracked member yet? Click on Emma's face . . . and become one.
---
2018 Coaching Update: I'm doing video coaching now on whatever ails you — from betting problems and tilt issues to bad quitting and no patience. For more details and to schedule a call, click here.