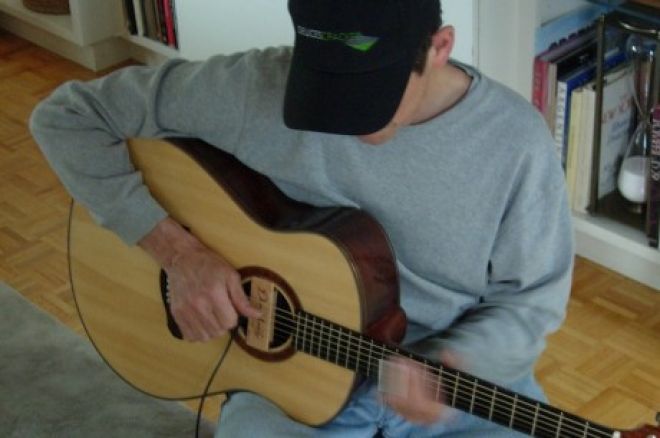 Songs on Banjo (2015)
---
Songs on Piano (2009, used in The Eightfold Path to Poker Enlightenment video series)
Moonlight Sonata – first movement
Amahl and the Night Visitors − excerpts
---
Poker Songs − written and played by me
"I'm Running Bad" is a CD I made in 2001. It has six songs on it. Five of them are about poker. I wrote and sang the songs and played all the instruments.
The songs:
I'm Running Good
The Raiser's Edge
Slowroller
I'm Running Bad
I Need Money
The Present
---
A Work of Aardvark (1980)
In my early 20's, I made two albums of original piano and drum music. You could think of them as me-the-piano-player giving cover to me-the-drummer so that me-the-drummer would have a place to musically relieve himself. This is the second album, recorded on my brand-new-at-the-time grand piano that has faithfully lugged me around all these years.
The Songs:
Side A:
Side B:
Sonata:
---
Miscellaneous original songs from 1983-1986
These are home-made demos of a whole bunch of songs I wrote in the 80's.
Tom Songs Side 1
Tom Songs Side 2
---
Just Another Band
From 1982 to 1990 I played in a band called Just Another Band. I was on drums for four years, then piano for four years. Check this out. That's me next to Willy! Can you believe that shit? This was from 1989.
We fronted for other big names around then, at Ponderosa Park, in Salem Ohio. Our main thing was gigging five or six nights per week, at big country music bars that featured live bands and had music almost every night. We played five sets per night, 40 minutes on, 20 minutes off, 50 weeks per year.
I have a huge box of cassette tapes of JAB recordings that are eroding away as we speak. I have only digitized a few tapes.
Here are three songs from an excellent night in 1985. I am on drums.
The three songs are:
One Way Rider — Ricky Scaggs (0:00 to 5:00)
What's Your Name — Lynyrd Skynyrd (5:00 to 9:00)
Lawyers Guns and Money — Warren Zevon (9:00 to 12:00)
And here is one digitized cassette of Just Another Band from 1986. I'm on piano, not long after the move from drums. That was terrifying to say the least! These are two long MP3s, one for each side. Songs 2-6 are song fragments. Together they are served as a demo to give to bar owners.
Just Another Band 1986 – Side One
Just Another Band 1986 – Side Two
The Songs:
Side One
Dixie Chicken
[The next 4 songs are partials because this was a demo tape we made.]
Hey Bartender
Dance the Night Away
Reno Bound
Doobie's Intro
Hot as They Come
Guitars Cadillacs (10 seconds)
Cameo
Bring the Children Home
Dixie Chicken
Tough Enough
16 Tons
I Am What I Am
Super Duper Love
Side Two:
I Need Money
Hot as They Come
Green River
I Need Money
I Don't Want to Cry
Wait for the Right Love
Cindy Darlin'
Cameo
Amber
Wait for the Right Love
I Am What I Am
Bring the Children Home
---
Open-Tuning Guitar Music (recorded on my iPhone in 2012)
For several years I had two guitars sitting out in stands at all times whose necks never got dusty. One was tuned to Open G, the other to Open D. I was discovering slide guitar. And even without the slide, familiar-sounding riffs suddenly showed themselves, because of the tunings.
The first song is all slide. The second one is no slide. And the third song is half and half.
Slide Song
Slinky Song
Feud in B Minor