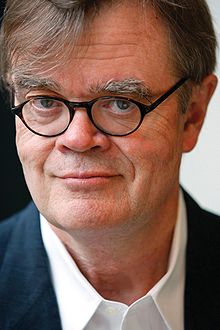 Have you ever walked out of a concert with an odd sensation in your face and then realized that what you are feeling is muscle strain? Yesterday, Kay and I saw a show in San Francisco that exhausted my face.
http://prairiehome.publicradio.org/
Garrison Keillor is one of the most intelligent, funny, and charming performers I have ever seen. His band is stellar. His piano player plays how I play when I have fantasy dreams of me on the piano bench being able to play exactly what is in my head.
Here's a link from the page above about the band:

http://prairiehome.publicradio.org/about/cast/shoe_band.shtml
What you see at a Garrison Keillor concert is a live radio show being produced. The show airs on PBS on Saturdays at 6:00 p.m and is replayed on Sunday morning at 11:00 a.m.
I've heard the radio show many times. Watching it happen is something else altogether, especially the hysterical segments where he tells a story while three people stand alongside him doing sound effects, and acting out characters, like old-time radio. The pace is so fast and they are so tight you'd think they'd rehearsed it for months. Except it's a weekly show, with one actual performance, and that's it. Never done again. It's one of the most indescribable things I haven't tried to describe.
Garrison is a genius writer.
And a graceful performer.
With a heart of gold, and a message of love.
And the music…
In the show we saw, one of his guests was an opera singer, which seemed fitting since we were at the magnificent War Memorial Opera House San Francisco. I'm not a fan of opera. It's not that I don't like it. I've simply never been to one. Two of the three songs that Raul Melo sang were comical. One was to the tune of some famous opera song, with the words changed. He sang about being a tenor in the opera. One of the repeated lines was "I love to die."
Melo sang one straight-up opera song, no comedy added. He even brought out his own piano player. I closed my eyes the whole time and listened. I heard the person next to me move, I heard the person behind me clear his throat. I never knew how to temporarily clear my mind out and just listen until I started meditating. I listened to the singing. For the first time I got a glimpse of why some people really like opera.
When Garrison comes to your town, a great deal of the show is about your town. The material he did pertaining to San Francisco had me and the other 3000 people in the sold out show in a state of hilarity that was enough to, well, like I said, make my face ache.